Kansas City workers keep family health plan without contributions increase

Contact: John Wiseman, 816-836-1400; 816-804-4045; jwiseman@usw.org

Kansas City, MO. (Nov. 26) – Local 13-07 members of the United Steelworkers (USW) at Milbank Manufacturing Co., jubilantly returned to work today after standing up against an unlawful week-long employer lockout, ratifying a new three-year contract that rejected a management proposal to force big employee increases in contributions to their healthcare plan.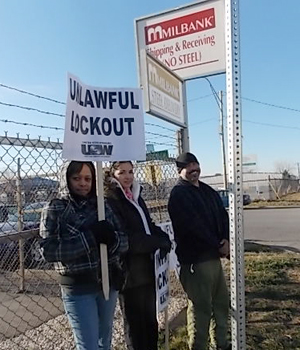 In addition to maintaining the healthcare plan for families with no increase in premiums being paid, the union employees won a wage increases package of $1.10 per hour plus pay for three days of lost wages during the lockout. In exchange, the USW has agreed to request the federal National Labor Relations Board (NLRB) consider withdrawal of three labor charges filed against the company that cited the unlawful lockout.

Janet Kirk, USW Local 13 President and an employee at Milbank said: "The union membership solidarity against the employer lockout said enough is enough. We were not going to accept another increase of our contributions for a family healthcare plan. So we won our position and we even got paid for most of our wages lost due to the lockout."

The USW chief negotiator for the agreement, John Wiseman, said a federal mediator who met separately with the company and union in two days of meetings after the lockout began at Midnight on Sunday, Nov. 18, was helpful in bringing this company to its senses. "There was just no way the workers' could pay 25 percent of their gross earnings to maintain the current health plan proposed by Milbank Manufacturing."

Bob Hill, a union negotiating committee member at Milbank, said: "The overwhelming ratification vote on Friday for the new agreement says we could have gotten this resolved without a lockout if the company stayed at the bargaining table as we urged. We're all pleased that our dispute is fairly settled and we're back at work."

The workers covered by the USW contract at the Kansas City plant are employed at the first and largest production facility of Milbank Manufacturing that makes electrical breaker boxes and meter sockets for bringing power to residential and commercial properties all across the nation. The company owns smaller production facilities in El Dorado, AR., and Concordia, MO., where labor agreements expire early next year.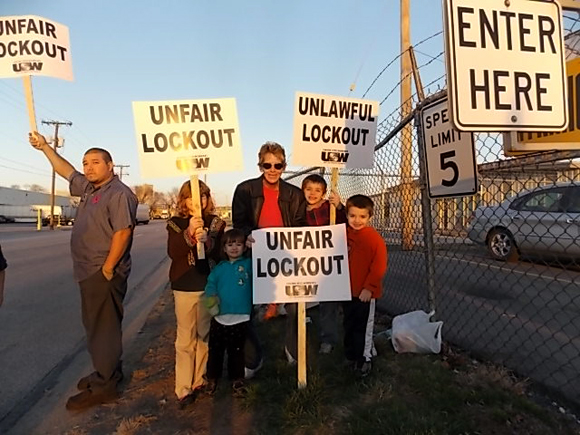 # # #