(Pittsburgh) – The United Steelworkers (USW) and the United Auto Workers (UAW) today strongly condemned yesterday's savage attack on leaders of Section 308 of the National Union of Mine and Metal Workers at the Johnson Controls Interiors plant in Puebla, Mexico.
In a letter to Stephen Roell, Johnson Controls' President and CEO, USW International President Leo W. Gerard and UAW President Bob King expressed grave concern about the company's apparent failure to abide by an agreement reached in May and the apparent collaboration of local management in the violent assaults carried out by thugs associated with the Confederación de Organizaciones Sindicales (COS), the former union in the plant.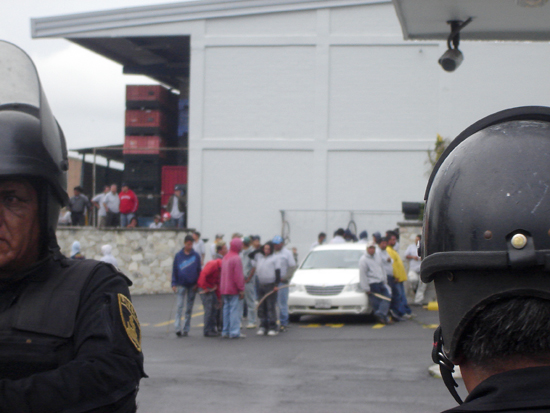 On May 29, 2010, Johnson Controls signed an agreement with the workers at the Puebla plant, in the presence of officials of the Puebla government and other witnesses, in which it agreed to remove the company union (COS) and recognize the National Union of Mine and Metal Workers as the bargaining representative. The agreement also included a commitment not to take reprisals against the workers.
The letter states that: "We are informed that the workers called the police who came to the plant, but did not enter because they were not given permission by management. As of this morning, the thugs are still occupying the plant, and the workers are outside.

Our concern is heightened by what appears to be a pattern of threats and physical attacks against independent union supporters, specifically the Worker Support Center (CAT) by members of the CROM, the company supported union at the Johnson Controls FINSA plant."
The letter demands that the company immediately removes the COS thugs from its plant, publicly condemns the violence, and cooperates with the authorities in the investigation and prosecution individuals responsible.
To see entire letter, click here.
# # #