The back-to-back Bush and Obama administrations allow us to easily compare the effectiveness of liberal and conservative economic policies. President George W. Bush's record is highlighted by tax cuts largely aimed at giving the wealthiest Americans more money with which to invest, and a looser regulatory regime on businesses. President Obama implemented the Keynesian-style American Recovery and Reinvestment Act (also known as "the stimulus"), repealed the heart of the Bush tax cuts, greatly expanded the federal government's role in health care with the Affordable Care Act, and tightened regulations on several industry sectors including finance and energy.
How do their economic records compare?
Let's start with the big one: jobs. And let's make it fair to Republicans and only look at private sector job creation – no Democratic cheating by putting all the unemployed on the government payroll!
Bush vs. Obama: Private Sector Job Creation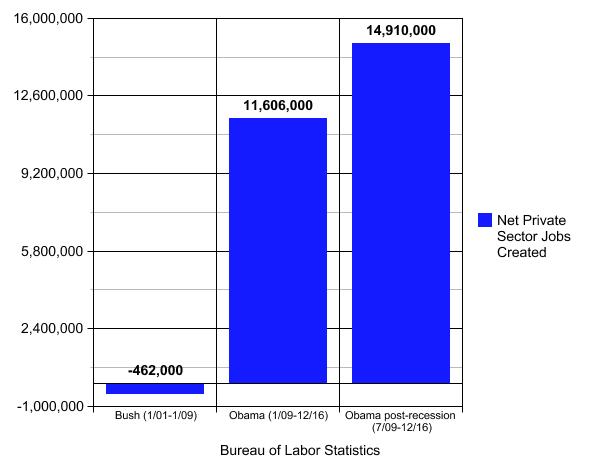 Bush lost private sector jobs over the course of his eight years (the Wall Street Journal declared it the "Worst Track Record On Record" on jobs), while Obama has created a net of 11.6 million private sector jobs during his presidency, and nearly 15 million if you start counting after the Great Recession Bush handed Obama technically ended in mid-2009.
More ...