Get to Know AFL-CIO's Affiliates: Actors' Equity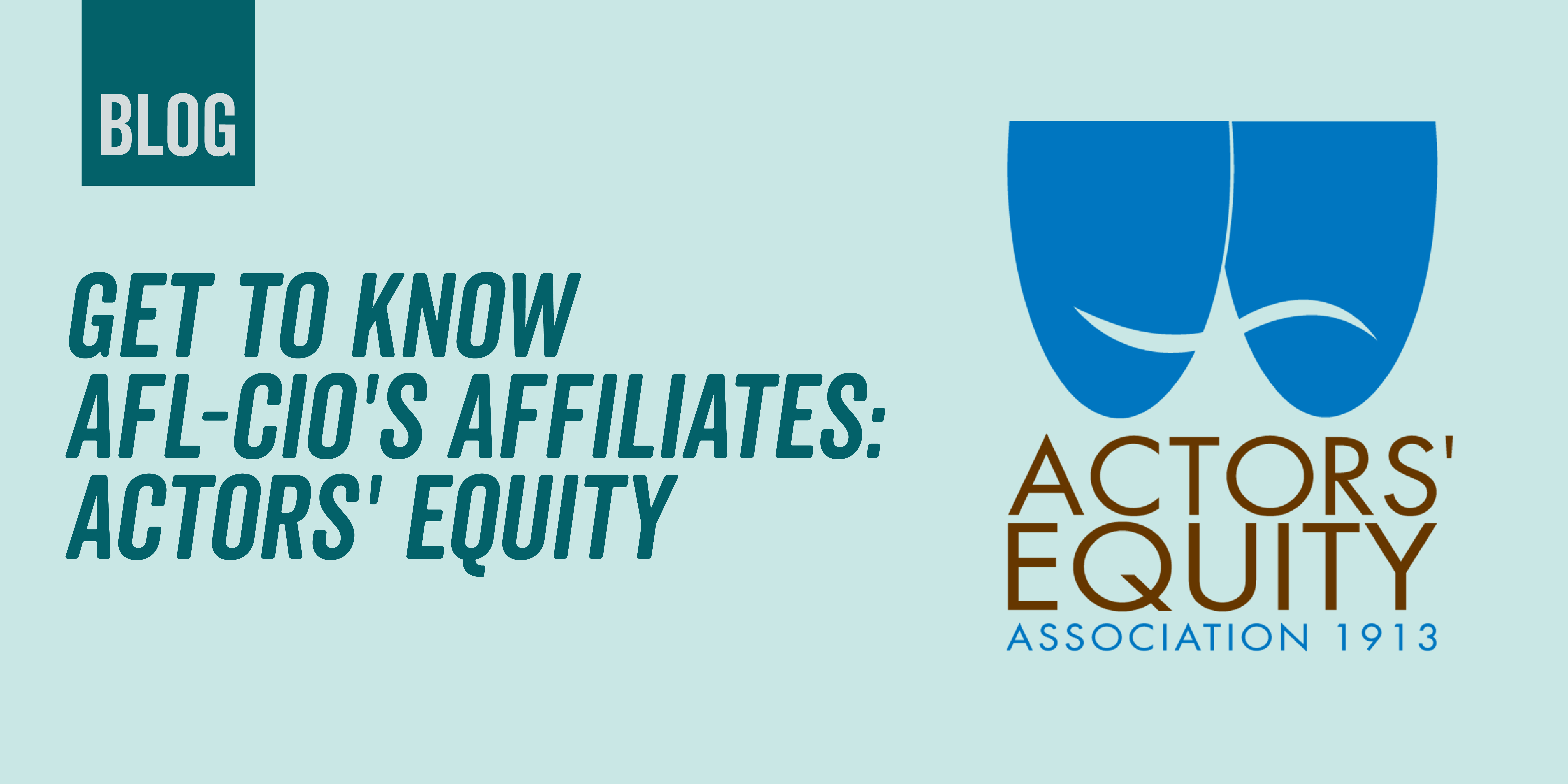 This is the first post in our new series that will take a deeper look at each of our affiliates. The series will run weekly until we've covered all 55 of our affiliates. First up is Actors' Equity (AEA).
Name of Union: Actors' Equity Association
Mission: To foster the art of live theater as an essential component of society. To advance the careers of members through negotiating wages, improving working conditions and providing a wide range of benefits, including health and pension plans.
Current Leadership of Union: The current president of Equity is Kate Shindle. Shindle was elected in 2015 and is the youngest person to ever hold the Equity presidency (and only the third woman). She originally joined in 1999 and was first elected to Equity's national council in 2008 before starting a three-year term as eastern regional vice president the next year. As an actor, she made her Broadway debut in "Jekyll & Hyde" before appearing in "Cabaret," "Legally Blonde" and numerous other shows. She was an associate producer on the Broadway premiere of the Tony-nominated "A Christmas Story: The Musical." Before joining Equity, she earned the title of Miss America in 1998 and used her platform to advocate for HIV prevention and education, work she continued as a member of Equity. She is a board member of the Actors' Equity Foundation, the Actors Fund, Broadway Cares/Equity Fights AIDS and has been a vocal supporter of marriage equality and anti-discrimination laws for the LGBTQ community. Mary McColl currently serves as the executive director for Equity.
Current Number of Members: More than 51,000.
Members Work As: Actors, stage managers, dancers and singers.
Industries Represented: Equity has more than 40 contracts in the theater industry, from Broadway to dinner theater.
History: In the early 1900s, theater acting was alluded to with the phrase "life upon the wicked stage," as actors and stage managers were forced to rehearse without pay, left stranded throughout the country when shows closed on the road, required to pay for their own costumes and worse. In 1913, 112 actors in New York decided they'd had enough. They formed a union that day and adopted the name suggested by William Courtleigh, Actors' Equity. In 1919, the new union was recognized by the American Federation of Labor and shortly thereafter Equity launched the first actors' strike in American theater history. During the strike, chorus and ensemble members also went on strike and formed Chorus Equity, which would later formally merge with Actors' Equity in 1955. At the conclusion of the strike, the theater producers signed a five-year deal that met most of Equity's demands.
Equity has long fought for civil rights. In 1947, Equity resolved that its members would not play at the National Theatre in Washington, D.C., when the theater banned black audience members. This was an early bold stance that not only worked (the theater closed and re-opened with a nondiscrimination policy), it set the tone that Equity would follow to this day, fighting against discrimination in the theater, both on stage and off, and increasing employment opportunities for actors and stage managers of color, women, seniors and those with disabilities. The union has consistently fought to raise wages, expand benefits and protections, preserve historic and advance other reforms that benefit actors and stage managers in the theater and working people broadly.
Current Campaigns: Equity's Annual Report gathers and collates data about employment, finances and membership. Equity's Regional Theatre Report examines annually the density of work opportunities for Equity members across the country. Equity's annual awards recognize the contributions of Equity members to the theater industry. The Actors' Equity Foundation provides grants to nonprofit theaters and institutions serving the arts community. The #ChangeTheStage campaign fights for inclusive hiring across the entertainment industry. Ask if it's Equity! helps fight back against nonunion productions in areas covered by collective bargaining agreements. The Everyone On Stage petition is focused on getting chorus and ensemble performers the Tony Award recognition they deserve. The Not A Lab Rat campaign looks to win better wages and profit participation for Equity members working in the early stages of developing new Broadway shows.
Community Efforts: Equity supports many service organizations, including The Actors Fund,the Career Center, Actors Federal Credit Union, Artists Health Insurance Resource Center, Broadway Cares/Equity Fights AIDS, Career Transition For Dancers, the Conrad Cantzen Shoe Fund, Phyllis Newman Women's Health Initiative, The Actors Fund Home and The Samuel J. Friedman Health Center for the Performing Arts.
Learn More: Website, Facebook, Twitter, Instagram, YouTube
***
Reposted from the AFL-CIO