Contact: Jim McKay, 412-562-2441
Pittsburgh – The United Steelworkers today announced the appointment of veteran labor attorney Richard J. Brean as the union's General Counsel.
Brean, 60, of Pittsburgh, succeeds General Counsel Paul Whitehead, who has accepted an appointment as a professor of practice in labor studies, employment relations and law at Penn State University's main campus in State College, Pa.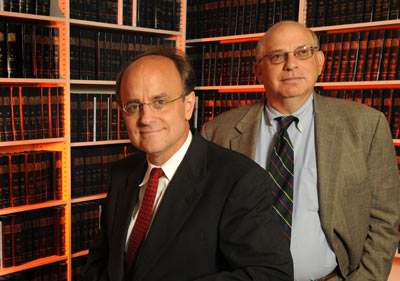 Paul Whitehead (L) and Richard Brean
Brean, previously Senior Associate General Counsel, will be responsible for the legal affairs of the largest industrial union in North America.
"Rich Brean has clearly earned this leadership position,'" said USW International President Leo W. Gerard, who announced the appointment.
In his new position, Brean will direct the labor movement's most distinguished legal department, oversee the work of outside law firms and work with management counterparts across a broad range of industries.
Over the years, Brean has helped to redirect a large part of the union's legal resources from simply defending the union in court cases to affirmatively asserting the union's rights under the National Labor Relations Act.
He has pursued several notable unfair labor practice cases against Ravenswood Aluminum, Bridgestone-Firestone Tire, and Southwire, among others, where union members were restored to their jobs with good contracts after being permanently replaced or locked out of their jobs.
"That work has been crucial to our winning contract settlements in some of our biggest disputes over the past three decades," Gerard said.
Brean will be the union's eighth general counsel in 66 years. His predecessors include Arthur Goldberg, a former Supreme Court Justice who was Secretary of Labor under President John F. Kennedy; and the late Bernie Kleiman, who served as General Counsel from 1965 through 1997 and was well known for his commitment to excellence and fiery belief in workers' rights.
"It is an enormous honor to be selected,'' said Brean, who received a Bachelor of Arts in History from Kenyon College, a Master in Public Affairs and Urban Planning from Princeton University's Woodrow Wilson School of Public and International Affairs and a Juris Doctor from Harvard Law School. "I hope to be worthy of the people who were in this seat before me and live up to the standards set by Bernie Kleiman and honor his memory."
Brean and Whitehead are both members of the Harvard Law School Class of 1978 and have been career-long friends and associates at the USW. They will implement a transition plan for the legal department over the coming months.
Whitehead, 57, of Pittsburgh, grew up in Appleton, Wis. He graduated from the University of Wisconsin with a B.S. degree in labor studies and an M.S. degree in industrial relations. He is a graduate of Harvard Law School.
Whitehead has been with the USW for 28 years and its General Counsel since 2001. His practice centered on labor, benefits, and bankruptcy law as well as collective bargaining.
During his tenure as General Counsel, the department has devoted its energies to a wide variety of issues including tariffs against unfair imports, legal support for union organizing, international solidarity actions, pension and health-care issues, and mergers, including the integration of the former PACE union with the USW.
"It is a privilege to work for the Steelworkers," Whitehead said. "I came to the union thinking I'd stay a relatively short time and then I got to know its people and its challenges and I stayed for 28 years. As much as I've wanted to teach, it's still hard to leave, and I'll do everything in my power to support Rich and a great legal department."