The Congressional Progressive Caucus released "The People's Budget" this week, which it dubs a "roadmap for the resistance." Maybe the mere mention of a federal budget plan makes your eyes glaze over, but the "People's Budget" is a dramatic document.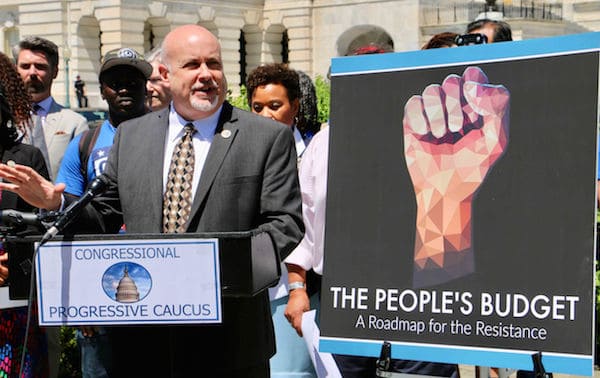 Representative Mark Pocan of Wisconsin at a press conference for the "People's Budget" on Capitol Hill on Tuesday, May 2, 2017. (Photo via Congressional Progressive Caucus)
It presents a compelling alternative to Donald Trump's "skinny budget." Unlike Trump's fanciful promises, it offers a sensible path out of the hole that we are in. Its values and priorities reflect those of the majority of Americans. The Progressive Caucus frames its budget around the central challenge of our time: how to make this economy work for working people, and redress the savage inequality that is undermining our democracy. It offers a strategy to get there, and a budget framed to support that strategy.
Not surprisingly, this makes it an outlier in the beltway debate.
More ...