How to Have a Union-Made July 4th Barbecue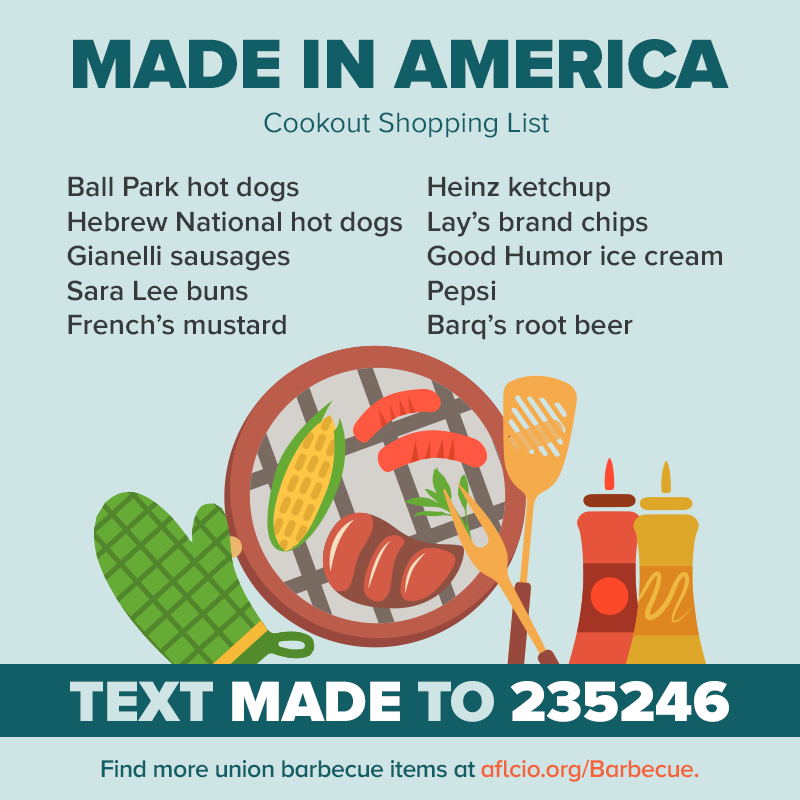 Whether it's Memorial Day, July 4 or Labor Day, make sure your barbecue is stocked with union-made in America products.
Our lists are courtesy of the Los Angeles County Federation of Labor's website Labor 411; Union Plus; the Bakery, Confectionery, Tobacco Workers and Grain Millers (BCTGM); and the United Food and Commercial Workers (UFCW).
Beer
Budweiser
Coors
Miller
Pabst
Sam Adams
See more beers from Union Plus.
Coolers
Flags
Games
Battleship
Candy Land
Clue
Connect Four
Monopoly
Twister
Yahtzee
Grills
Weber (Genesis, Summit, Q Series)
Hot Dogs
Ball Park
Butterball
Hebrew National
Hormel
Oscar Mayer
Ice Cream
Breyers
Good Humor
Prairie Farms
Tillamook
Snacks
Flipz pretzels
Frito-Lay chips
Sunscreen
Bain de Soleil
Coppertone
***
Reposted from AFL-CIO.