November's Enormous, Humongous Trade Deficit Continued Economic Damage
The U.S. Census Bureau reported Wednesday that the November goods and services trade deficit was an enormous, humongous $42.4 billion. This is for just one month, not an entire year. This is down $2.2 billion – 5 percent – from October's enormous, humongous $44.6 billion trade deficit (revised up from $43.9 billion).
This enormous, humongous trade deficit sucked .26 percent from the quarterly gross domestic product and will continue to drag down economic growth, job prospects, wages and living standards.
November exports were $183.5 billion, $1.6 billion less than October exports. November imports were $224.6 billion, $3.8 billion less than September imports. The November decrease in the goods and services deficit reflected a decrease in the goods deficit of $2.3 billion to $61.3 billion and a decrease in the services surplus of $0.1 billion to $18.9 billion.
The goods trade deficit with China was $30.2 billion (same as the month before), with the European Union $12.8 billion, with Mexico $5.4 billion, Germany $5.5 billion, Japan $5.6 billion and South Korea $2.3 billion. These are all deficits; we buy more from them than we sell to them.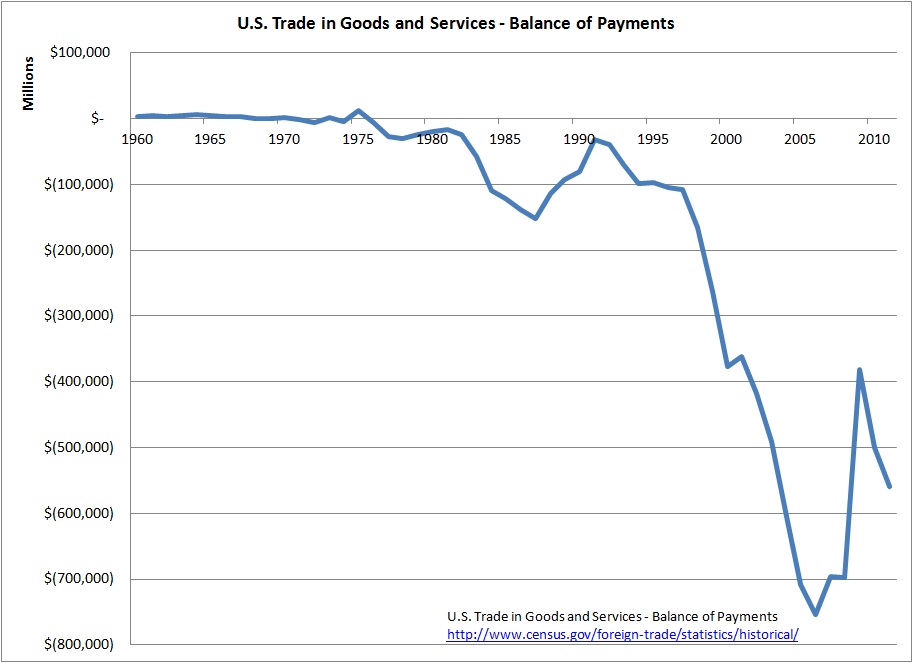 What A Trade Deficit Does
We have a trade deficit when we buy more than we sell. Obviously that can't go on forever, but the United States has had a trade deficit every single year since the late 1970s when Wall Street convinced us that "free trade" is good for us.
That is also the same point where the share of the country's economic benefits going to labor flatlined.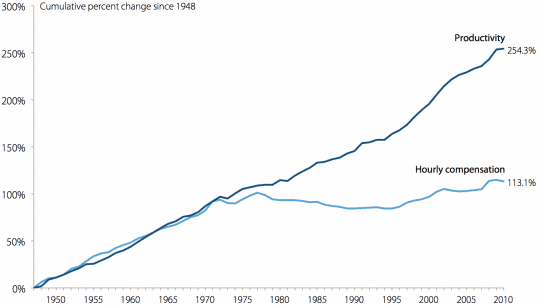 ***
This has been reposted from the Campaign for America's Future.