MORE IN: 2012 Conference Wrapup
How to Make Us a Stronger Union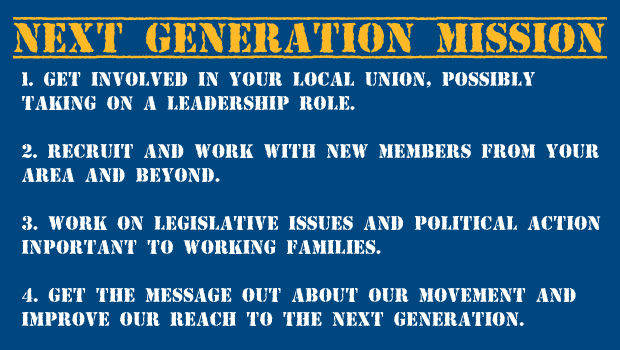 HOW WE GET IT DONE

EDUCATION
Know the issues and what directly affects your young membership.
Attend and participate in meetings.
Connect with the USW and other young members through social media.
Make contact with new members and offer to be their mentor.

Encourage new members to register to vote and educate them on the issues.
Get involved with USW education and membership development programs, and other trainings such as, Health, Safety and Environment, USPA and Women of Steel.
ACTIVISM AND INVOLVEMENT
Partner will other locals in your area.
Join USW activist groups like Rapid Response or Political Action.
Connect with other community groups in your area.
Invite new members to local and national functions like phone banks, memorials and protests.
Organize a social event for members in your area - don't just engage with folks when you need them to do work, but build lasting relationships.

Learn about the electoral process in your local and help identify leaders with which to engage, and if necessary, target.
Participate in USW actions of all types - traditional on the ground as well as online - and help mobilize people to fight for a better world.
Learn to fight smart and strategically through the Building Power and other USW programs. Then pass this knowledge on to fellow young people.
Get involved in organizing campaigns to help grow our union and our movement.
Get involved with Workers Uniting and other global activism to show global solidarity as well as to help us in our fight against global capital and anti-worker goverments around the world as most of our employers are multi-national corporations.
COMMUNICATION
Start a local newsletter if your local doesn't already have one.
Start a local Facebook group or offer to manage Twitter or other social media sites.

Talk about the USW and Next Generation with friends and co-workers.

Attend community events with information to distribute.

Wear Next Generation clothing and buttons.
Join USPA to improve skills and help our local communications networks grow.
Be good representatives and spokespeople for the union movement to help put a fresh face with the social justice movement that often gets unfairly portrayed and sensationalized. We can do this through a variety of ways, from the media to in our churches, schools, community and other areas.