Retirement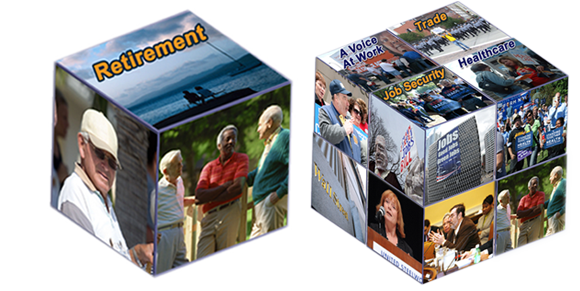 The United Steelworkers upholds the right of all workers to be able to retire in dignity with a decent pension. We will work with all sectors of the international trade movement to stand up to the political parties and forces in defense of the livelihoods of retired workers. We support strengthening the Social Security system. We reject any effort to raise the retirement age, privatize the system, and otherwise undermine Social Security benefits.
Statement by AFL-CIO President Richard L. Trumka On Reports by Social Security and Medicare Trustees Today's reports by the Social Security and Medicare trustees bring good news for both programs. The reports are a needed comeuppance to right wing ideological opponents of Social Security and Medicare who, year after year, twist the facts to undermine confidence in these essential programs ... more
Workers, Unions and Pension Funds Eighty-three percent of union workers have retirement plans, compared to only 44 percent for nonunion workers. But union workers are also far more likely to have defined benefit pension plans – 69 percent, compared to just 14 percent for nonunion workers.
Pension Protection Act of 2006 On August 17, 2006, H.R. 4, known as The Pension Protection Act (PPA) of 2006, was signed into law. The PPA will eventually affect the funding and regulation of almost all forms of retirement and deferred compensation plans, with most changes becoming fully effective by 2008.