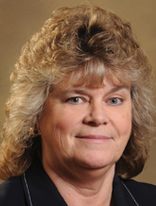 Carol Landry
International Vice President At Large
Carol Landry is the United Steelworkers' first woman International Vice President. Appointed Vice President (at Large) at the 2008 USW International Convention, she is responsible for the union's airline division.
Landry is a long-time activist and seasoned negotiator who joined the USW in 1986 at Canada's largest copper mine. She held virtually every position in Local 7619 at Highland Valley Copper: shop steward, treasurer, vice president and president. In 1989, when she was the only woman on a 13-member bargaining committee, Landry helped lead a 107-day strike that defeated company demands for outsourcing work, inferior wages and lack of opportunities for women and technical members.
Landry advanced to lead negotiations in 1998-99 as the local union president and stood firm against company demands for massive concessions and a threat of permanent closure. The contract that year tied wages to the price of copper, producing several years of increases for her co-workers.
It was just the beginning of Landry's diverse and extensive bargaining experience. Appointed to the USW Canadian staff in 1999, Landry serviced local unions in the lower mainland of British Columbia and led negotiations in a variety of industries.
Landry has been an instructor for the union for more than 18 years and has served as education coordinator for District 3. As a Women of Steel leader, she spearheaded programs to encourage women to seek leadership positions.
Until her appointment to the International Executive Board, Landry was Assistant to District 3 Director Steve Hunt. Landry is also an executive member of the IndustriALL Global Union and a member of the IndustriALL Women's Committee. She has been active in the Canadian Labour Congress and British Columbia Federation of Labour. She is a general vice president with the AFL-CIO Department of Professional Employees.