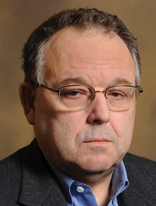 Jim Robinson
Director District 7
Jim Robinson, Director of USW District 7, has served the USW for nearly 40 years. He joined United Steelworkers Local 1010 in 1971 when he was hired to work at Inland Steel in East Chicago, Ind. and began work for the union almost immediately, getting elected in 1973 as safety committeeman while assigned to the basic oxygen furnace department.
Next, Robinson was elected grievance committeeman, serving from 1976 to 1988. In 1988, he was appointed local union arbitration coordinator, giving him responsibility for all of the local's arbitration cases. In 1991, he was elected chairman of the grievance committee.
In 1994, he was appointed to the USW International staff. He was promoted to Sub-district Director in 1996 and Assistant to the Director in 1999. While working for the International, Robinson attended law school at Loyola University Chicago School of Law, graduating at the top of his class in 1997.
In November of 2001, he was elected Director of District 7, which covers the states of Illinois and Indiana. He was re-elected by acclamation in 2005 and again in 2009.
Robinson is chairman of the Alcoa, Dana, and Titan Tire negotiating committees; chairs the Smurfit-Stone Container Corp. Council; is secretary of the ArcelorMittal Steel Negotiating Committee, and serves on the International Union Appeals Panel.
The headquarters for District 7 is in Gary, Ind.
USW District 7
1301 Texas Street
2nd Floor - Room 200
Gary, IN 46402
219.886.2596 - Telephone
219.886.8686 - FAX
State(s): IL, IN