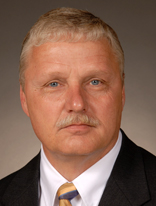 Stan Johnson
International Secretary-Treasurer
On May 6, 2009, Stan Johnson was appointed International Secretary-Treasurer by the USW International Executive Board replacing James English.
Johnson began his career in 1975 as a production worker for Pirelli Armstrong Tire Corp. in Madison, Tenn. where he joined Local 670 of the United Rubber Workers International Union. He served the local in various positions and offices, including vice president and president. He also served on the Rubber Workers' International (URW) Executive Board.
After the URW's 1995 merger with the USW, Johnson served the International in Pittsburgh as National Rapid Response Coordinator, Director of the Dislocated Worker Program and Assistant to the International President. In 1999, he became Assistant to the President for Special Projects in Alabama. Returning to Pittsburgh in 2000, he served in the positions of Executive Assistant to the International President, Assistant to the International Secretary-Treasurer and Special Assistant to the International President for Organizing. He relocated to Cornelius, N.C. early in 2003 as Sub-District Director. He was later appointed Assistant to the Director of District 9. In 2006, he was unanimously appointed by the USW International Executive Board to the position of Director of District 9.
As Secretary-Treasurer, Johnson oversees the finances of the USW. He chairs the Rubber and Plastics Industry Conference, participating in major bargaining. He also chairs the International Paper Conference and co-chairs the Georgia Pacific Council and the MeadWestvaco Council. He is chairman of three union pension funds and participates as a trustee on a fourth. Johnson also heads the Rapid Response program, the union's award-winning grassroots legislative initiative, and also directs its grassroots political mobilization program.
In addition to his extensive background with the USW and URW, Johnson earned a bachelor of science degree from the National Labor College. He also attended Volunteer State Community College and Nashville Vocational Technical College.