We're steelworkers. We slurry and smelt aluminum. We mine for iron ore and create cement. We make glass and metals of many kinds. We produce paper and paper products. And we craft energy-saving wind turbines that help save our Earth. Read More »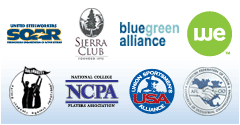 What do pro-football players and movie stars like Leonardo DiCaprio have in common with the USW? Why are environmentalists and labor activists working together? How does the USW help sportsmen while also fighting for worker justice in Colombia, China, Africa and elsewhere? The answers can be found in a variety of partnerships and alliances such as the Blue-Green Alliance, the first truly global union and the National College Players Association.

Click here to get information about the Steelworkers working hand-in-hand with partners and allies around the world.