ThyssenKrupp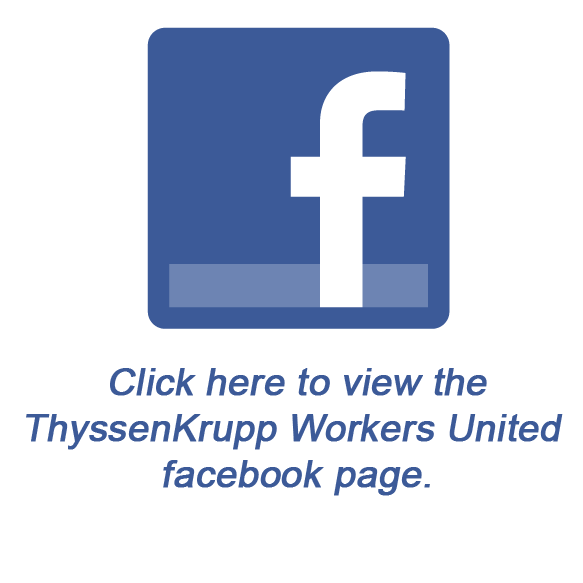 September 20, 2012
Attention All TK Steel Employees
What are you waiting for? How long must your family sacrifice for this company? How long will you continue to work in fear and uncertainty about your future because you refuse to unite with ONE VOICE!
WE WANT THE UNITED STEELWORKERS INTERNATIONAL UNION TO REPRESENT US FOR THE PURPOSE OF COLLECTIVE BARGAINING!
_____________________________________________________________________________________________________

ThyssenKrupp Steel Europe AG, plants in Duisburg-Hamborn/Beeckerwerth
(Click here to view the German version of the Resolution)
Resolution of the shop stewards at TKSE Ha./B'w. Duisburg, 9 June 2011

Trade unions' rights are human rights world-wide!
German companies obstruct trade unions' rights in the USA

We expect German companies to respect the principles of social responsibility on which they agreed in German plants also in their facilities world-wide.
We as IG Metall representatives demand from German managements to ensure that local managements in the USA respect the German principles of dealing with workers' rights. Those who implement the economic globalization should not ignore the social globalization. Trade unions in the USA are still being harassed, intimidated and thwarted with legal tricks.
Such an unfair behavior towards employees can also be observed at big corporations with headquarters in Germany. In the last few years we had to watch much too often that German companies would prefer to keep the number of unionized workers in their US operations as low as possible through intimidation and threatening reprisals. Through these reprisals, also in the facilities of German companies, these plants should stay union-free. There is a national law on industrial relations in the US called National Labor Relations Act. This law provides for union elections. If at least 50 per cent of all employees vote for a union representation, then the elected union is an official negotiating partner for the company. Through intimidation these elections can be blocked or circumvented.
This is one of the reasons why the union density in the USA is nowadays only 12 per cent and 7 per cent in private economy. This means that the trade union movement in the USA is critically endangered.
In September 2010 the human rights organization "Human Rights Watch" published a study on "Violations of Workers' Freedom of Association in the United States by European Multinational Corporations", in which they examined grave violations of the human right to freedom of association by German companies like Deutsche Telekom and T-Mobile, Deutsche Post and DHL Express, Robert Bosch GmbH and Siemens, and also by ThyssenKrupp in the US. The freedom of association is also guaranteed by international agreements. They found out that "Many European multinational corporations embrace the Universal Declaration of Human Rights and United Nations human rights covenants. They declare support for declarations and conventions of the International Labor Organization, labor guidelines of the Organization for Economic Cooperation and Development, principles of the United Nations Global Compact, the Charter of Fundamental Rights of the European Union and other international labor rights documents." - "In all these instruments and settings, workers' freedom of association—the right to organize trade unions and to bargain collectively—is a centerpiece of human rights and corporate social responsibility pledges. European companies appear to hold a deep commitment to workers' human rights through their publicly declared statements and promises."
"A central conclusion of this report is that firms' voluntary principles and policies are not enough to safeguard workers' freedom of association [in the US]".
We want to change this at ThyssenKrupp!!!!
Leadership of shop stewards

Wilfried Müller Klaus Wittig Bernd Kruse
ThyssenKrupp Steel Europe AG
Leadership of IG Metall shop stewards
Kaiser-Wilhelm-Str. 100, 47166 Duisburg
Post box: 47161
Wilfried Müller
Tel. (0203) 5 24 01 64
Fax (0203) 5 24 01 27
Klaus Wittig
Tel. (0203) 5 24 01 04
Fax (0203) 5 24 01 27
Bernd Kruse
Tel. (0203) 5 22 22 26
Fax (0203) 5 24 01 27
Click here to view the Resolution of the shop stewards at TKSE ha./B'w. (German).

---
World Class TK Employees Deserve World Class Representation!
For More Information, contact USW directly, confidentially and toll-free at 1-877-511-8792.
You Can Make History!
Click here to download the Support Flyer for ThyssenKrupp employees
A large number of ThyssenKrupp employees have indicated that they want Union representation. These employees are NOT against TK. The employees just want to deal with management on a "level playing field" and to be treated fairly in the future.
During the training in Germany, members of IG Metall, the German Steelworkers union, encouraged TK employees to join the United Steelworkers (USW). Both unions have close ties with each other. Representatives of IG Metall and USW met with ThyssenKrupp management in Germany in 2008 requesting that ThyssenKrupp should not interfere with TK employees in Alabama if they want to form a union.
Your union colleagues in Germany are very interested in your union drive and are receiving daily reports as to what is happening in Alabama. By forming a union at TK in Alabama, you'll be making history by forming new global ties with your union colleagues in Germany and at other TK locations world-wide!
First Steps!
To form a union at TK, the U.S. federal law states that at least 30% of TK workers need to sign USW Authorization Cards, saying they want USW to be their representative. The U.S. Government will hold a secret ballot election if there is at least a 30% "showing of interest" in having a union.
If 50% + 1 of the employees vote in the government-conducted election, then negotiations for a contract tailored to the needs of TK employees in Alabama will be negotiated. USW staff will work with a negotiating team of TK employees elected by your hourly co-workers. TK-Alabama employees will have support of TK workers in Germany and all the USW members to help them get the contract that world-class workers deserve.
Make Sure That TK-Alabama Is "Just Cause", Not "Just Because"!
One thing many workers don't realize is that right now, WITHOUT a union, TK employees are "at will". That means without a union, you can be disciplined or terminated for just about any reason, or even no reason at all.
But with a union contract, there is "just cause", which requires the company to have a valid reason for any disciplinary action.
As you know, managers and supervisors come and go—along with their own ways of managing. Union representation is your job insurance policy in a world of constant changes.
Facts About Signing A USW Card
Here is what a USW card looks like (front and back).
| | |
| --- | --- |
| FRONT OF USW CARD | BACK OF USW CARD |
| | |
(The department, shift, job title, rate, witness and e-mail address lines are all optional.
Fill in only if you want to).
Here are the facts about signing a USW Card:
• It simply means you ARE interested in getting together with your co-workers, and for TK to sit down and negotiate your terms and conditions of employment with the TK on equal footing with TK management.
• You can give your signed card to a co-worker you trust, or you can mail it to the USW. Call the USW confidentially and toll-free at 1-877-511-8792 to receive a card and postage-paid envelope.
• The card is kept strictly confidential by the USW and the National Labor Relations Board (US Government). TK will NOT know you signed a card unless you tell them.
• You ARE protected by Federal Law (National Labor Relations Act), if you want to sign a USW card.
• You are NOT giving up your individual right to deal with your supervisors on day-to-day issues and problems.
• You are NOT required to pay any fees or dues to the USW. Since Alabama is a so-called right-to-work state, USW membership and payment of dues is completely voluntary.
• You are NOT taking a stand against the company or being disloyal by signing a card.
For More Information, contact USW directly, confidentially and toll-free at 1-877-511-8792.
Wages and Benefits at Allegheny Ludlum
Click here to view the paystubs of workers at Allegheny Ludlum Corp.'s stainless operations, where the USW has negotiated world class pay and benefits.