Clean Car Wash Campaign
Carwash Campaign Announces First Union Contract
CLEAN Secures Historic Agreement in Fight to Protect Rights of LA Carwasheros
Today carwash workers with the CLEAN Carwash Campaign announced a union contract with Bonus Car Wash in Santa Monica, making Los Angeles home to the only unionized carwash in the country. The agreement marks the first contract won by the CLEAN (Community Labor Environmental Action Network) Campaign in its efforts to end decades of abuses suffered by Los Angeles carwash workers.
Secured with the help of community partners across Los Angeles and the national AFL-CIO, these agreements mean workers at Bonus will become members of the United Steel, Paper and Forestry, Rubber, Manufacturing, Energy, Allied Industrial and Service Workers International Union, (United Steelworkers). Workers at Marina Car Wash in Venice, which is owned by the same company but was closed last December, also won recognition of the union and a contract, and the owners have committed to working to reopen the well-known carwash.
Oliverio Gomez, who has worked at Bonus Car Wash for nine years, said, "I'm so happy we have a union and a contract. Now we get to take our breaks, if we're thirsty we can drink water, and they respect the schedule, and all of the hours we work are in our paycheck. But the biggest difference is we finally get respect as workers."
Workers at Marina and Bonus Car Wash have been seeking to unionize since 2008. They formed organizing committees at both carwashes to push for improvements, engaged in worksite actions, and made presentations to dozens of local community groups, churches and synagogues to gain public support for their efforts to form a union and win a contract ... more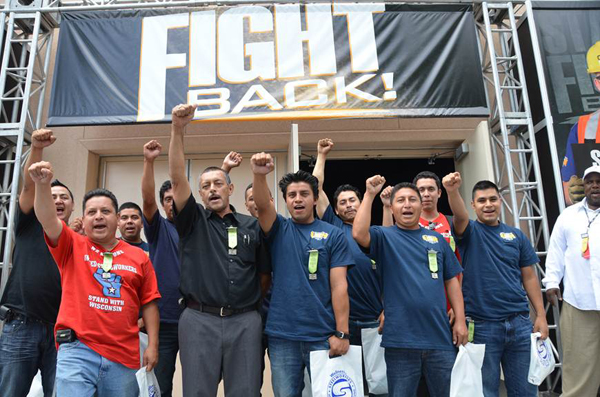 ---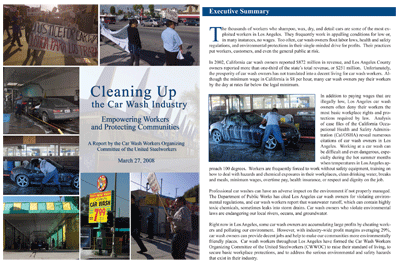 The thousands of workers who shampoo, wax, dry, and detail cars are some of the most exploited workers in Los Angeles. They frequently work in appalling conditions for low or, in many instances, no wages. Too often, car wash owners flout labor laws, health and safety regulations, and environmental protections in their single-minded drive for profits. Their practices put workers, customers, and even the general public at risk.
In 2002, California car wash owners reported $872 million in revenue, and Los Angeles County owners reported more than one-third of the state's total revenue, or $251 million. Unfortunately, the prosperity of car wash owners has not translated into a decent living for car wash workers. Although the minimum wage in California is $8 per hour, many car wash owners pay their workers by the day at rates far below the legal minimum.
In addition to paying wages that are illegally low, Los Angeles car wash owners often deny their workers the most basic workplace rights and protections required by law. Analysis of case files of the California Occupational Health and Safety Administration (Cal/OSHA) reveal numerous citations of car wash owners in Los Angeles. Working at a car wash can be difficult and even dangerous, especially during the hot summer months when temperatures in Los Angeles approach 100 degrees. Workers are frequently forced to work without safety equipment, training on how to deal with hazards and chemical exposures in their workplaces, clean drinking water, breaks and meals, minimum wages, overtime pay, health insurance, or respect and dignity on the job

Professional car washes can have an adverse impact on the environment if not properly managed. The Department of Public Works has cited Los Angeles car wash owners for violating environmental regulations, and car wash workers report that wastewater runoff, which can contain highly toxic chemicals, sometimes leaks into storm drains. Car wash owners who violate environmental laws are endangering our local rivers, oceans, and groundwater.
Right now in Los Angeles, some car wash owners are accumulating large profits by cheating workers and polluting our environment. However, with industry-wide profit margins averaging 29%, car wash owners can provide decent jobs and help to make our communities more environmentally friendly places. Car wash workers throughout Los Angeles have formed the Car Wash Workers Organizing Committee of the United Steelworkers (CWWOC) to raise their standard of living, to secure basic workplace protections, and to address the serious environmental and safety hazards that exist in their industry.
Our heart belongs to horsepower. Earthquakes have shaken this place, but nothing has shaped it like our mad automobile love.
— Los Angeles Times, June 21, 2006
On a sunny day, hundreds of cars might come through the car wash where I work. The boss yells at us to work faster as the cars line up down the street. We are not allowed to stop for a break or for lunch. They don't give us any fresh water to drink. Sometimes it's hard to breathe because of the chemicals; my eyes sting and my skin sometimes breaks out in a painful rash. For all this, I'm paid about $35 for a 10-hour day and when I get sick I have no insurance to pay the bill.
— Saturnino Hernandez, car wash worker2
The CLEAN Car Wash White Paper
To view the entire CLEAN Car Wash White Paper, please click here
What We Want ...
The campaign to pass the Car Wash Worker Law—in which a diverse coalition of advocates stepped up to demand accountability from the car wash industry and enforcement by our government—showed that there is strong support for car wash workers in our community. That campaign continues today with the formation of the CWWOC. The effort to clean up the car wash industry is based on workers joining together with each other and with members of their communities to claim their rights to decent work and a voice on the job, while raising industry standards and safeguarding the community from the threat of pollution ... more
News Articles
Inspectors find dirt on books at Southern Calif. carwashes
A worker at Blue Wave Car Wash in West Los Angeles washes a vehicle. A Times investigation has found that hand carwashes, automotive beauty shops patronized by tens of thousands of Southern California motorists every day, often brazenly violate basic labor and immigration laws, with little risk of penalty. Owners frequently violate labor and immigration laws with little risk of penalty, officials say. Many workers are loath to complain, but some have formally accused their bosses of underpaying them ... more
At L.A. Carwashes, Taking A Stand
As organizers prepare to launch a union campaign, carwasheros ponder the effect on their lives. "Badly," Varela answered, continuing to pass tickets to motorists as they pulled in. Curious, Gabriel Chavez crawled out of the car he was vacuuming. Keeping his gaze on the small window that the owner used to peer at his workers, he stepped toward the visitor, out of his boss' sightline. "Do you know you have rights?" the stranger asked Chavez ... more
Unions join to organize carwash workers
Leaders target 18,000 workers in Southern California. They also tell consumers what businesses to avoid.
Two of the nation's largest unions formally announced a campaign to organize Southern California's 18,000 carwash workers and offered consumers recommendations on how to avoid carwashes that violate minimum wage laws. "We will do whatever it takes to clean up the carwash industry," said Jon Hiatt, general counsel for the AFL-CIO, which launched the campaign with the United Steelworkers. At a news conference, union leaders urged consumers to ask owners about their pay practices, and to avoid carwashes ... more
Supporters of the CLEAN Car Wash Campaign
The CLEAN Car Wash Campaign includes the following endorsers:
AFL-CIO
Asian Pacific American Labor Alliance (APALA)
American Civil Liberties Union of Southern California (ACLU)
Bet Tzedek Legal Services
California Labor Federation
Central American Resource Center (CARECEN)
Coalition for Humane Immigrant Rights of Los Angeles (CHIRLA)
Clergy and Laity United for Economic Justice (CLUE)
Institute of Popular Education of Southern California (IDEPSCA)
Koreatown Immigrant Workers Alliance (KIWA)
Los Angeles Alliance for a New Economy (LAANE)
Los Angeles County Federation of Labor, AFL-CIO
Los Angeles-Orange County Organizing Committee, AFL-CIO
Mexican American Legal Defense and Education Fund (MALDEF)
National Day Laborer Organizing Network (NDLON)
National Immigration Law Center (NILC)
National Lawyers Guild
Pride At Work, AFL-CIO
Progressive Jewish Alliance (PJA)
UCLA Labor Center
UNITE HERE Local 11
United Steel, Paper and Forestry, Rubber, Manufacturing, Energy, Allied Industrial and Service Workers International Union (USW)
USW District 12
USW Local 675
Wage Justice Center