United States International Trade Commission

Tapered Roller Bearings From China

INV. NO. 731-TA-344 (THIRD REVIEW)

Testimony of Dennis Brommer

USW Subdistrict Director; Canton, Ohio

Presented: June 19, 2012
Washington, D.C.
Good morning, Commissioners. I am Dennis Brommer. I am the Subdistrict Director for Subdistrict 2, District 1 of the United Steel, Paper and Forestry, Rubber, Manufacturing, Energy, Allied Industrial and Service Workers International Union. The USW represents 850,000 working men and women in a broad array of industries. I work with USW Local 1123 in Canton, Ohio, which represents the workers in Timken's Gambrinus Roller plant as well as its steel producing facilities.

I am accompanied today by our Local president, Joe Hoagland. Joe, would you please stand for a moment? Joe is a 39-year employee of the company.

The Gambrinus Roller Plant produces tapered rollers which are shipped to Timken's other TRB plants for use in producing TRBs. The work involved in producing rollers to the exacting specifications demanded by Timken's customers requires highly skilled workers if it is to be done right.

For example, a machinist/finisher sets up and operates machine tools and performs any dismantling, fitting or assembly work required for plant maintenance or construction. Our members who are machinists and finishers work with all machine and hand tools that are common to the trade and such measuring instruments as micrometers, electronic gauges, and vernier calipers. This position requires as much as 48 months of employment training and demonstration of continuous improvement.

Our USW members in the Gambrinus Roller plant work hard to produce the finest quality tapered rollers in the world. The tapered rollers are, of course, critical to the performance of TRBs since they are the rolling element.

It's hard work. It's demanding work. But our USW members are very proud of the high quality product they produce. Let me add that our USW members and the company are jointly committed to working together to maintain and improve the Gambrinus Roller plant's efficiency and competitiveness.

You have heard testimony about the impact of revocation of the order on U.S. plants. I am here to tell you that our USW members in the Gambrinus Roller plant are also very likely to be harmed if the order is revoked. If Timken is forced to shutter its plants because of a surge in dumped Chinese TRBs, then the impact of those closures flows right back to Gambrinus in the form of reduced need for tapered rollers.

As Timken's overall production declines, so does Gambrinus's production of tapered rollers until it reaches a tipping point and Gambrinus is closed as well. In short, the livelihood of our USW members, their families and the communities in which they live are in your hands.

That is why, on behalf of the USW men and women working in the Gambrinus Roller plant, I respectfully ask you to find that revocation of the order on TRBs from China will likely lead to continuation or recurrence of material injury to the domestic industry, and our USW members in Gambrinus, in the reasonably foreseeable future. Thank you for your attention.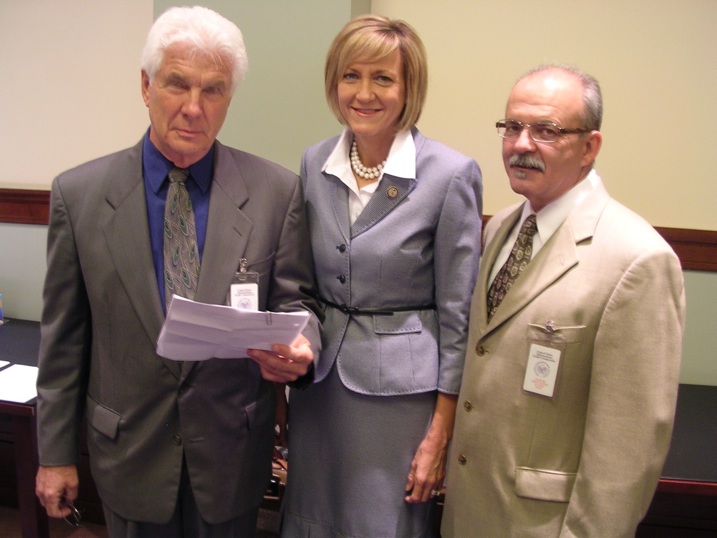 U.S. Sen. Sherrod Brown (OH-D) and Rep. Betty Sutton (OH-13-D) joined the USW in testifying before the U.S. International Trade Commission (USITC) on Jun. 19, 2012 on behalf of the steelworkers employed at Timken Co., plus thousands of retirees who worked for the company. Congresswoman Sutton (center) and Dennis Bromer (left), Subdist. Dir., USW Dist. 1 in Canton, both testified with USW Local 1123 Pres. Joe Hoagland – who represents 2,200 steelworkers at the Canton, OH steel mill -- in support of continued tariffs on China imports of tapered roller bearings. A vote by the USITC on whether to continue or revoke the tariff order is scheduled Jul. 31, 2012.
# # #