Testimony of
Michael J. Wright
Director of Health, Safety and Environment
United Steelworkers
before the
U.S. Chemical Safety and Hazard Investigation Board
On
Public Hearing on Regulatory Approaches to Offshore Oil and Gas Safety
December 15, 2010
Chairman Moure-Eraso, distinguished members of the Board and staff of the CSB, thank you for the opportunity to participate in this important public hearing. My name is Mike Wright; I'm the Director of Health, Safety and Environment for the United Steel, Paper and Forestry, Rubber, Manufacturing, Energy, Allied Industrial and Service Workers International Union – USW for short. We represent 850,000 workers in the sectors I just mentioned and many others, but for this afternoon, the important part of that name is the word "Energy." Thirty-thousand of our members work in the oil sector, the vast majority in refineries, although you will hear today from two of our members who work in production, on Alaska's North Slope. Altogether, our members account for about two-thirds of refinery capacity in the United States.
At the outset, let me say that unlike my three colleagues on this panel, and many of the other presenters today, I have never worked in the oil industry. And although the USW and its predecessor unions have done a great deal of work on refinery safety, and even more on process safety generally, we do not represent workers on the offshore oil platforms in the Gulf of Mexico. No union does, and the industry has worked hard to keep it that way. So I am not going to talk this afternoon about kicks and blowout preventers and cementing and drilling mud. Instead I want to make three simple points. First, the problem isn't confined to BP. Second, the problem isn't confined to offshore exploration and production. And third, we can learn a lot about safety management and mis-management, and about the culture of the oil industry, by looking at what's happening in refineries. Because, in the end, it's all one industry.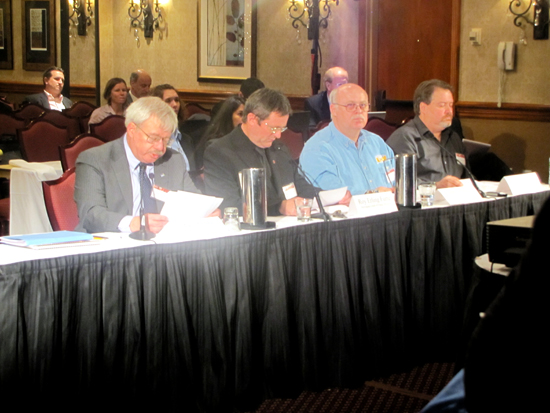 So let me talk about refineries. Most of our members in oil came through a merger with a union called PACE. That merger was finalized nine days after the BP Texas City disaster, and Texas City consumed much of our effort for the next several years. In the months that followed Texas City, the CSB produced its report on the accident itself and the Baker Panel reported on safety management in all of BP's American refineries. We decided to take a look at the industry as a whole through a survey of our local unions in 71 refineries operated by 22 different companies. The findings are detailed in our 2007 report, Beyond Texas City. We asked about four hazardous conditions that helped cause the Texas City accident and asked whether they existed at other refineries, and whether management had taken effective steps to address them. Those conditions were atmospheric venting, inadequate management of instrumentation and alarm systems, siting temporary structures near process units, and allowing non-essential personnel in vulnerable areas during start-ups and shut-downs. We also looked at emergency response programs. Ninety percent of surveyed refineries had one or more of those hazardous conditions. Forty-three percent had three or more. Seventy percent reported inadequacies in the emergency response programs. Those data were collected nine months to a year after the Texas City accident, yet 87% of our locals reported that the overall management of process safety in their refineries was still not effective enough. Incidentally, that last critical condition I mentioned – non-essential personnel in vulnerable areas – was one reason why 7 people died in the Tesoro Anacortes accident on April 2nd of this year, more than 5 years after Texas City.
In my career at the USW I've been able to work on safety issues in a wide variety of industries – steel, nonferrous metals, mining, rubber and plastics, paper, chemicals, forestry, nuclear fuels, and general manufacturing. I know of no industry where the gap between the intrinsic hazard of the process on the one hand, and the quality of the industry programs addressing that hazard on the other, is so wide. That's not because oil industry safety programs are so bad in comparison to other industries. Indeed, they are somewhat better than the average safety programs across all industries. But they tend to be the kind of ordinary programs aimed at trips and strains and injuries in general, mostly by exhorting employees to just work safely, often through programs that focus primarily on worker "behavior" instead of finding and addressing the kind of system failures capable of causing catastrophic accidents. It was macabre in the aftermath of the Anacortes tragedy to hear the industry praising its excellent safety record, based on OSHA recordables, as if a spraining an ankle was equivalent to being burned to death.
But the real problem is evident when you compare the ineffectiveness of those safety programs to the magnitude of the hazard. Mining, for example, has a higher death among workers. But a mine accident is confined to the mine, while a worst case refinery accident can affect thousands in the surrounding community. And no mine accident is capable of causing the kind of environmental damage that was caused by the Deepwater Horizon blowout.
Kim Nibarger, a member of our Health, Safety and Environment Department and a former oil worker, describes a refinery as follows: "Take a gallon of gasoline in a sealed metal can. Get your barbecue grill good and hot. Now put the can on the grill. Multiply that by a million. That's a refinery." Of course, refineries have hazards beyond hydrocarbon fires and explosions. On October 4th, a worker died in a hydrogen sulfide release at the ExxonMobil refinery in Chalmette, Louisiana. And the greatest community hazard of all is the possibility of a total loss of containment accident releasing hydrogen fluoride from an HF-catalyzed alkylation unit. In EPA's modeling, the lethal plume goes beyond the 25-mile limit of the model. A full release in a populated area could kill or injure more that a million people unless they evacuated in time. A far safer system, using solid acid catalysts as a replacement for HF, has been demonstrated at the pilot stage. But to date we know of no refinery planning to build such a unit.
Most have not even converted to the somewhat safer – although not safe enough – modified HF system.
Of course, the oil industry goes beyond many others in its system for setting voluntary standards through the American Petroleum Institute. Many of those standards are strong, well-reasoned and useful. But overall, that system just isn't good enough. The fundamental problem with voluntary standards is that not everyone volunteers. For example, API recommends the use of diesel engine air intake shut-off valves to prevent explosions caused by runaway engines in hydrocarbon gas or vapor releases. Such measures are the law in the European Union, Canada, Mexico and China. But there are no equivalent federal regulations in the US, only an API recommendation, so most engines in most refineries lack these protections. The main supplier of such systems tells us that they have sold ten times as many in Canada, where they are required by law, than in the US, where they are not.
Even where an API recommendation is widely followed, it may have loopholes that completely negate its intent. An infamous example is API 753, which was developed in response to a CSB recommendation that the API bar trailers and other portable buildings from potentially dangerous locations. API responded, and wrote an excellent standard in all respects but one – it specifically exempts "lightweight fabric enclosures." So in many refineries the trailers have simply been replaced by tents.
The impact of these failings is evident in the industry's performance. Several years ago, the USW set up a system for tracking serious process safety incidents in oil refineries. We use whatever published sources we can access, but we also rely on reporting from our members. In 2009 we recorded 45 serious process safety incidents – fires, explosions, releases. Five workers died in USW refineries. Things are not getting better: this year we recorded 49 serious incidents through December 7, with 11 deaths. Each of those incidents resulted from a loss of at least one, and usually several levels of containment or protection. And every week we get calls from our members about dangerous conditions – perilously thin piping carrying high-pressure hydrogen; temporary pipe clamps that seem to have become permanent; pipe clamps on top of pipe clamps; cracked process vessels like coker drums; decisions by management to run critical units even where the instrumentation is broken, or some of safety systems are inoperable.
And if you need more examples, on Monday, the USW joined a number of community and environmental organizations in Louisiana to release Common Ground II, a new report on safety in that state's 17 refineries. Using data from the Louisiana Department of Environmental Quality, the report charted an average of 10 accidents a week since 2005, involving releases of hazardous materials exceeding reportable thresholds. BP doesn't operate a Louisiana refinery; the biggest offenders were ExxonMobil, Calumet Lubricants and Citgo.
We in the USW have tried to address these problems. In our 2008-9 contract bargaining, we proposed comprehensive language on process safety and on fatigue caused by the massive overtime the industry relies on. The companies would not agree to any mandatory programs, and made it clear that they would take a strike rather than agree with the union on safety.
Then the CSB recommended that the American Petroleum Institute and the USW work together on the issues of fatigue and metrics, the API insisted on doing it through their normal voluntary standards process. They assured us that everything would be done by consensus, and so we gave it a good faith try. But instead of working through disagreements, the industry simply called for votes, where it was three unions (the USW and two unions mostly representing contractors) against twelve or more industry representatives and of course we lost every time. After trying to make the process work for more than a year, we finally gave up in frustration and left the talks, rather than put our name on inadequate standards. The two resulting recommended practices, API 754 and 755, are marginally better than nothing, but they are not good enough. If the industry had engaged in real consensus discussions, they could have been so much better.
After Texas City, the USW applied for and received a grant from OSHA to do process safety training for oil workers. We wrote training manuals and curricula, all of which was reviewed and approved by OSHA. We offered the training to a number of refineries. It would have been free. We asked the companies to continue to pay their employees their regular wages for several days of training, but that was all. They refused even that. One of the excuses was that they couldn't spare anyone from their regular jobs. We ended up presenting the training in smaller doses, at conferences, for workers who would come on their days off, and in other industries.
I do not mean to say that the situation is uniformly bleak. Fifteen US refineries participate in the USW's Triangle of Prevention Program, which includes systems of safety training for the entire workforce, along with intensive incident investigation to find and fix hazardous conditions. We think the program has made a real difference. But that's 15 refineries out of 71. We are currently in quiet discussions with parts of the industry on other improvements. So far, those discussions are mostly talk, and there's that old saying that talk is cheap. But another word for "cheap" is "cost-effective," and we are willing to talk to any company, any trade association so long as there's a chance that talking will lead to greater protections for our members and the communities that surround our workplaces. And as Monday's Louisiana report shows, we've also made common cause with environmental and community groups concerned about refinery hazards.
So what's the path forward? First, we have to fundamentally change how we regulate this industry, not just offshore, and not just in exploration and development, but all the way through refining. I said earlier that there is a dangerously wide gap between the inherent hazards of the oil industry and the effectiveness of the industry safety programs designed to address them. There is an equally wide gap between the hazards of the industry and our regulatory programs. A nuclear melt-down might be worse than a catastrophic release of HF, but the nuclear industry is regulated by the NRC, an independent agency with real power and resources. Mining is a dangerous industry, but mining has MSHA, with a stronger law and far more resources per worker than OSHA.
The oil industry has OSHA and EPA for refineries, and the Department of the Interior for offshore drilling. OSHA does its best, and the recent National Emphasis Program led to real improvements, but OSHA simply doesn't have the resources to give the industry that level of attention over time. Nor does the EPA Risk Management Program, despite an excellent staff and strong commitment. Offshore, the situation is even worse. The new Bureau of Ocean Energy Management, Regulation and Enforcement doesn't have the staffing, the resources or the regulatory tools to do the job. Last week the Wall Street Journal reported that the Bureau could only pay new inspectors half of what they could make working for the industry, and the proposed federal pay freeze isn't going to help that. And the Bureau is in the wrong place. In mine safety, we learned 35 years ago that you cannot put safety in the same Department that handles industry promotion and collects fees. That's why we took mine safety out of the Department of the Interior and created MSHA in the Labor Department. That lesson should also apply to offshore oil. We should also put aside American exceptionalism and look closely at the programs in the UK and Norway. Those programs came at great cost – the 1988 Piper Alpha disaster, which took 167 lives. They deserve serious consideration.
Finally, let me add one other thing that would make oil exploration and development safer – unionization. I'm not saying that unionization automatically increases safety or that all union plants are safe. Texas City was a unionized plant. But we can bring fresh eyes, a fresh approach, and experience in other industries to the table. More important, we give workers a real voice in workplace conditions. We can encourage people to report safety problems, and we can protect them when a manager doesn't like it. In fact, managers themselves sometimes bring us problems – quietly, secretly, anonymously – when they can't get upper management to address them, and they believe we can. The other panelists this afternoon will go more deeply into what they've been able to accomplish through their unions.
Let me close by saying that I believe in the oil industry. In the five years I've been privileged to work on oil issues I've come to know hundreds of dedicated oil workers, union and management alike. I think we can solve these problems. I was trained as an engineer, and I still think engineers can do anything. But it's not just an engineering problem. The industry doesn't lack for technical competence or worker commitment to safety. What we need are effective management programs with strong union participation, backed by effective regulations enforced by well-resourced and independent agencies. We have a long way to go, but we can get there.
Click Here to download a copy of his Testimony.