Pennsylvania State Treasurer Rob McCord delivered more than $17,700 to the United Steelworkers on Monday (Feb. 25, 2013) as part of a campaign to return $1.9 billion in unclaimed property held by the state.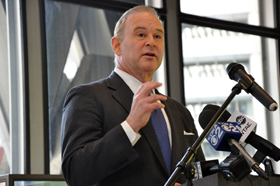 Every year, the state Treasury Department receives millions of dollars in unclaimed property in the form of abandoned bank accounts, forgotten stocks, uncashed checks and the contents of safe deposit boxes.
McCord presented an oversized check to the USW for $17,700 that represented a combination of uncollected union dues, dividends, account payable checks, credit balances, checking accounts, refunds and rebates.
The check was accepted by Jennifer Salandra, who heads the USW's unclaimed property outreach program. USW International Secretary-Treasurer Stan Johnson introduced McCord to a press conference held in the USW's headquarters building in Pittsburgh.
"The United Steelworkers have a long history of advocacy and action on behalf of Pennsylvania laborers, and this unclaimed property can help support the union's ongoing effort to build a better future for working men and women," McCord said.
The treasurer urged citizens, businesses and other organizations to search www.patreasury.gov to see if they too are owed some of the $1.9 billion in unclaimed property held by the state. The Treasury Department can also be contacted by telephone, 1-800-222-2046, during weekday business hours.
People and organizations that are owed money may not know about it because the holders of the property are not required under state law to contact the owner before remitting it to the Treasury Department.