Twenty-two months ago, Adidas supplier PT Kizone went bankrupt, closing its operations in Indonesia and leaving its 2,700 workers without jobs — and more devastatingly, without the $1.8 million in severance pay to which they were entitled.
Now, the United Steelworkers' ally, the United Students Against Sweatshops (USAS) is helping Indonesian workers to convince Adidas to make good on the contractual promises its supplier made.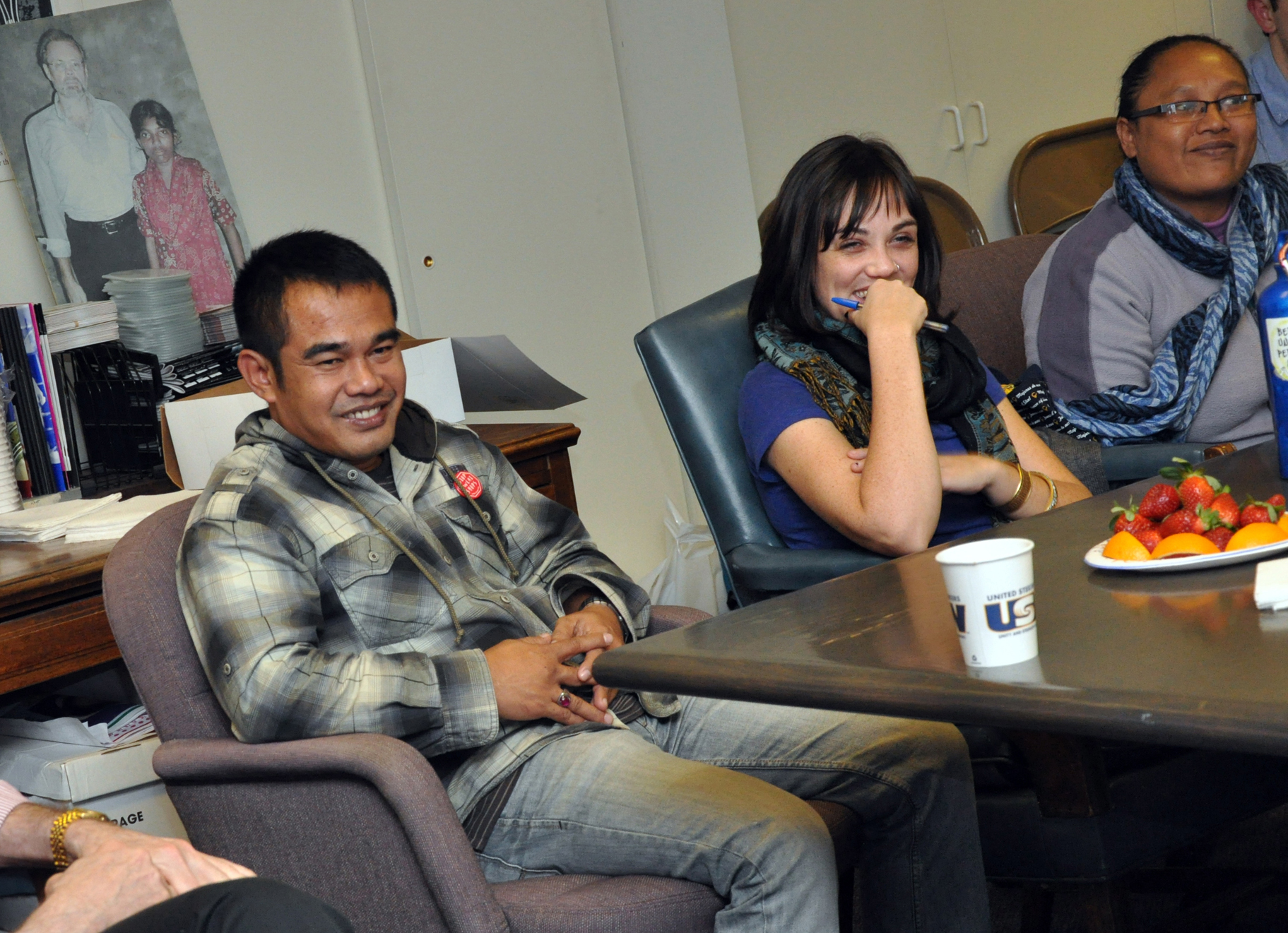 Members of USAS and two of the affected Indonesian workers, Heni Sutisna and Aslam Hidayat, have embarked on a tour of 18 American universities and colleges in what they are calling the Badidas Worker Tour.
By helping Indonesian workers to tell their stories, the group hopes to draw attention to the ways in which Adidas has shirked its responsibilities to its workers and encourage schools to sever ties with the company on the basis of its human rights record.
The USW and the USAS have a close relationship based on their mutual commitments to fighting for workers' rights — in fact, the USAS works out of the USW's Washington, D.C., office.
When the group, hosted by the Institute for Global Labor and Human Rights, got to Pittsburgh this week to visit the University of Pittsburgh, they also met with a group of around 20 Steelworkers, including USW International President Leo W. Gerard.
Heni and Aslam described the Indonesian workers' situation. When the factory closed, PT Kizone still owed them back wages, they said. However, because the owner had declared bankruptcy, all of the money from the sale of assets went to his creditors. The workers received nothing.
Because Indonesia does not have unemployment insurance in the same way the United States does, workers rely heavily on severance pay, which is negotiated into their contracts, when they lose their jobs. Not being paid this severance has left many of the workers completely destitute.
Heni described how she and her husband, who both worked in the factory, were forced to leave their home and move into a single room with their three children. When her husband was injured shortly after the factory closed, they nearly starved, unable to afford even rice.
Eventually, Adidas offered the 2,700 workers approximately $525,000 in vouchers for a local mini-mart called the Alfamart, the equivalent of the American 7-Eleven.
Aslam, who was the leader of his local union, described this as an insult to the workers. The total value of the vouchers was less than half of what they were promised—or roughly $195 per person had the vouchers been divided evenly. Many workers received nothing.
More troubling, workers weren't able to use the vouchers for many of the things they desperately needed, including housing, schooling for their children, and even food, since the Alfamart carried few of the items workers would normally buy at their local markets.
Many workers were forced to sell the vouchers for much less than their face value in order to get any use out of them.
USAS representative Garrett Strain said he believes the vouchers were a way for Adidas to try to quell the angry workers without actually settling PT Kizone's debt to them. He said they have been careful to avoid setting this kind of precedent because it would acknowledge that they are responsible for what happens to the workers who make their products.
As they push their suppliers to work within narrower and narrower profit margins, many go bankrupt, and Adidas doesn't want to concede that the system that generates billions of dollars in profits for them has dire consequences throughout their international supply chain, Strain said.
Through the tour, the group hopes to get other celebrities, sports figures and universities to help in their protest until Adidas finally compensates its workers.
Half a dozen schools have already cut ties with Adidas as a result of USAS's work, and the University of Wisconsin is suing Adidas, calling their mistreatment of their workers a breach of contract. In January, the Indonesian garment workers won the right to be a third party in the lawsuit, which is taking place in Dane County Circuit Court.
To kick off the nationwide Badidas Worker Tour, USAS and the Indonesian workers rallied outside New York's Fashion Week, targeting a show featuring Selena Gomez, who is a "brand ambassador" for Adidas's new NEO fashion line.