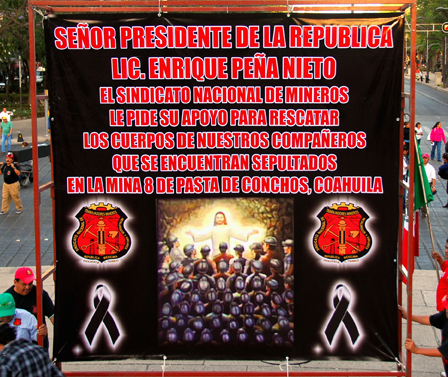 Seven years after an explosion at Grupo Mexico's Mine #8 killed 65 miners at Pasta de Conchos in San Juan de Sabinas, Coahuila, hundreds of men and women marched through Mexico City carrying 65 black caskets with the Mexican Metal and Mineworkers' Union (Los Mineros) to mark the anniversary.

United Steelworkers (USW) District 7 Director Jim Robinson led a delegation of eleven steelworkers to Mexico for the march, rally and other events to mark the beginning of five days of global solidarity actions to support members of Los Mineros and other Mexican workers.

"This week, our union brothers and sisters and allies throughout the Americas and around the world are standing in solidarity with Los Mineros," Robinson said. "We are demanding justice for these workers and their families because it's the right thing to do."

Instead of investigating Grupo Mexico and prosecuting those responsible for the disaster, the Mexican government turned a blind eye to corporate misconduct and helped the company cover its tracks by ordering the mine sealed just five days after the blast, cutting rescue efforts short along with any attempt to investigate its cause or even to recover the bodies of those trapped inside.

Meanwhile, Los Mineros and its democratically elected leader, Napoleon Gomez Urrutia, have been unfairly targeted by the Mexican authorities. The government used police and troops to squash a strike over health and safety at Grupo Mexico after the disaster. Urrutia has been jailed as a result of trumped-up, bogus charges and is currently living in exile.

Between Feb. 1 and 22, unions around the world will participate in protests, demonstrations and rallies at embassies and consulates in support of Mexican workers and against constant and systematic violations of human and labor rights by the Mexican Government.