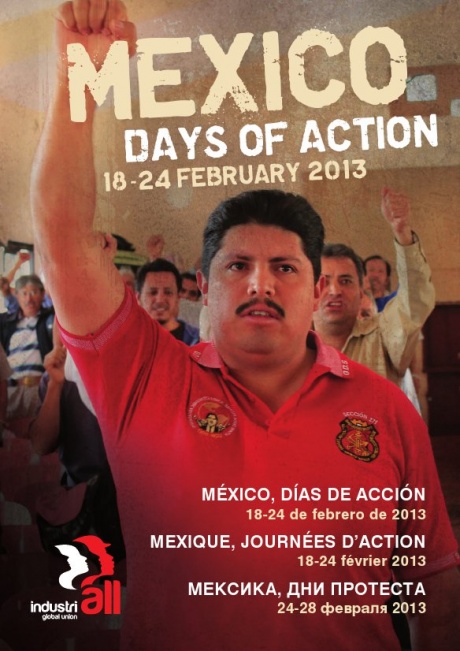 The IndustriALL Global Union is mobilizing internationally for trade union rights in Mexico during the week of February 18-24, 2013.

The date marks the terrible Pasta de Conchos mine accident in 2006 that killed 65 miners. The refusal of the Mexican government and employer Grupo Mexico to recover the bodies of 63 miners who remain entombed is widely known to be an effort to cover up the real causes of the disaster and the inadequacy of rescue efforts.

In the Mexican capital, national unions will march with international and North American trade unionists on 19 February and further actions are planned throughout the country during the week.

During the Days of Action IndustriALL affiliated trade unions, together with transport workers and others, will revisit the Mexican Ambassador to their country and push for action on:
The outstanding ILO complaint no. 2694 on Protection Contracts
Pasta de Conchos justice
Rejecting the recent regressive labour law reforms
IndustriALL Global Union appreciates and thanks our USW members for their support in this week-long event.
Click below for an information letter: In English In French In Spanish