Mr. Romney and Bain Capital Invest in a Brutal Sweatshop in China

‎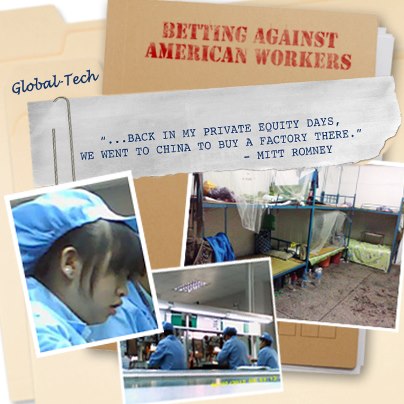 "Yesterday afternoon the Institute released a new report about the Global-Tech factory in China, a true sweatshop, in which Romney and his investment company, Bain Capital, invested some $23 million. Please share widely." — Charlie Kernaghan
Click Here to view the whole report
The report contains the following information:

√ Executive Summary
√ Mr. Romney and Brookside Invest up to $23 Million in Global-Tech
Sweatshop in China
√ Mr. Romney Was Investing in the Outsourcing of U.S. Jobs and
Production
√ Mitt Romney is Responsible
√ Misery Updated: Brutal and Illegal Sweatshop Conditions Persist at Global-Tech in China
Grueling 105- to 112-Hour Work Weeks
Below Subsistence Wages
Child Labor Persists
Primitive and Filthy Dorms at Global-Tech
The Workers' Cafeteria Is Beyond Filthy: Barely Edible and Frequently Rotten Food
Global-Tech Workers Have No Hope for Their Future And See No Possibility of Change
Workers Can Easily Join the Global-Tech Factory, But Getting Out Is Another Story
Global-Tech Workers Also Cheated of Healthcare and Other Benefits
Gross Violation of Guangdong Province's Regulations on Payment of Wages
Would You Like Your Son or Daughter to Work at Global-Tech?
Progressive talk show host Ed Schultz spoke with the Executive Director of the National Labor Committee Charlie Kernaghan about how Mr. Romney invested in the sweatshops in China. They discussed the primitive and filthy conditions workers were forced to work in for 15 to 16 hours a day, seven days a week.

Click the audio link below to hear the conversation.