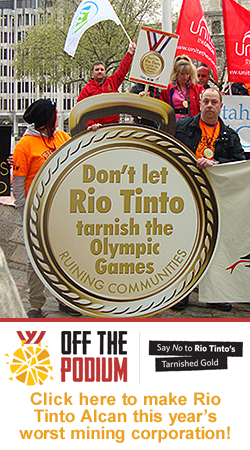 With the start of the 2012 Summer Olympic Games upon us, we're all
feeling a sense of pride and patriotism in our country and the athletes
who've worked so hard to represent us.
I bet you didn't know that behind the glory of the bronze, silver and gold
is a company that contaminates the environment with its mining activities,
puts its employees lives a risk and locked-out 780 USW members in Alma, Quebec, threatening to cut wages, eliminate benefits and convert secure
jobs into contract jobs.

Rio Tinto, the third largest publicly traded mining company in
the world, is the exclusive provider for the metal needed to produce the
4,700 medals for the 2012 Summer Olympic and Paralympic Games.
However, the company's behavior fails to live up to the Olympic principle
of fair play and commitment to sustainability.

Don't let Rio Tinto's selfishness and greed tarnish the integrity of the
Olympic Games. Fight to keep them off the podium and get our brothers
and sisters in Alma back to work!
---
Here's what you can do:
Go to www.offthepodium.org and www.justiceforriotintoworkers.ca to get more information about the USW lockout campaign.

Click here and vote for Rio Tinto for the Greenwash Gold 2012 Award–signifying that the company is environmentally destructive and devastating while pretending to be a good corporate citizen by sponsoring the Olympic Games.

Join the action team to continue to put pressure on the International Olympic Committee (IOC) to remove Rio Tinto as a supplier.