Washington, D.C. (Jun. 12) – A delegation of management and USW Local 10-1442 representing 400 paper workers at the ACCO Mead Products plant in Alexandria, PA., attended a public hearing before the U.S. International Trade Commission (USITC) for a sunset review of current duty orders on imports of certain lined paper school supplies (CLPSS) from China, India and Indonesia.

Local 10-1442 President Mitch Heaton said, "Our family-supportive jobs are dependent on continuation of the five-year-old tariffs on imports of the school paper and spiral notebooks that we produce for the U.S. market." He adds: "We wanted to be recognized at the hearing before the six commissioners so they understood we are prepared to fight for sustaining our jobs."

The USITC hearing was a sunset review of the duties placed in 2006 on imports of lined paper and notebooks used by school students. The USW represents paper workers employed at the ACCO Mead Products converter plant, plus the Roaring Springs Blank Book Co. in nearby Roaring Springs, PA., where Local 10-488 members are employed.
Leann Foster, assistant to the USW international president, testified, 'Five years ago, the U.S. lined paper industry was n dire straits as a result of dumped and subsidized imports from China, India and Indonesia. Several U.S. production facilities closed, production lines shut down, shipments, production and capacity declined, and inventories rose. Our members lost jobs, lost hours, lost overtime, lost wages, and lost benefits."

She confirmed the result of the imposed antidumping and countervailing duty orders against imports of lined paper school supplies from the three countries have worked as intended. Foster pointed out that other USW members employed at mills supplying paper roll products to ACCO and Rolling Springs – would also be affected if the tariffs were revoked.
The USITC will vote on whether to continue or revoke the tariffs on Aug. 1. More than 500 workers are employed in the sector that produce school lined paper.

CLICK HERE for a copy of the testimony delivered before the USITC by Leann Foster, assistant to the USW president.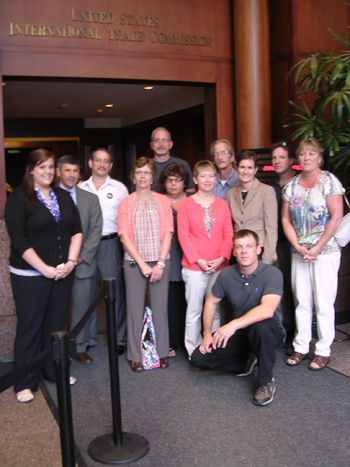 The paper workers employed at the ACCO Mead Products converter mill in Alexandria, PA., observed the USITC proceedings in Washington, D.C. – (kneeling in front): Terry McCaulle; first row (l-r): Chelsea Eichelberger, Carol Wible, Jackie Hamer, Cheryl Blair, LeeAnn Foster, Penny Goss; back row (l-r): Perry Smith, VP for ACCO Brands manufacturing, Sheldon Port, Cliff Hawkins, Greg Uhlom and Shawn Wiser. Missing from photo but participating in the delegation were: USW LU 10-1448 Pres. Mitch Heaton and Edna Querry, ACCO Brands HR Mgr.