Announcing the 2013 District 10 Conference
To: All Local Union Recording Secretaries United Steelworkers-District 10

You are hereby notified that the 2013 District 10 Conference will be held at Caesars Atlantic City, 2100 Pacific Avenue, Atlantic City, NJ 08401 on July 22, 23 & 24, 2013. The first session will commence on Monday, July 22, 2013 at 9 a.m.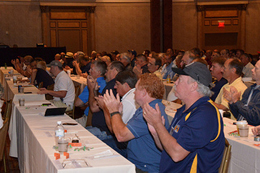 Delegates
Each Local Union shall be entitled to send as delegates their five top officers, the Chairperson of the Local Union Grievance Committee, the Chairperson of the Legislative and Political Action Committee, and the Chairperson of one other Local Union Committee. In addition, each amalgamated unit shall be entitled to send their Unit Chairperson, Unit Secretary and Unit Griever. Locals who may not be financially able to send a full delegation may designate the number of such officers as they choose to represent them. Every delegate must be authorized by the Local Union to attend this Conference. I strongly urge that each Local Union be represented as fully as possible. All lost time, hotel and travel expenses will be the responsibility of the Local Union.

Registration
Registration for the Conference will be held on Sunday, July 21 from 7:00 p.m. to 9:00 p.m. and the morning of Monday July 22 from 7:30 a.m. to 9:00 a.m. Our dinner will take place on Tuesday, July 23 at 6:00 p.m.

A registration fee of $125 per delegate is to be forwarded to the District Office in the enclosed envelope along with the registration and jacket form no later than June 20, 2013. Please make the check payable to the USW District 10 Conference Fund. The registration fee helps defray the cost of the Conference and includes the delegate's ticket to the dinner. Additional guest tickets to the dinner will be available at the Conference for $55.
To register for the conference, Click Here.
PLEASE NOTE: A signed dupicate copy of this form must be presented for each delegate.
Hotel Reservations
For Hotel Reservations call 1-888-516-2215 between the hours of 9:00 a.m. – 5:00 p.m. Monday through Friday or click here to book online. Please use GROUP CODE: SCO7ST3 to identify yourself as a delegate at the Conference. Room rate is $151.36 (includes taxes) for a double room. Each additional person will be charged $20. A one night room deposit is needed to guarantee your reservations. Deposit is refundable if room is cancelled at least 72 hours prior to arrival. Check in time is 4:00 p.m. Check out time is 12:00 noon. The cutoff date for hotel reservations is July 5, 2013. Self-parking is $5 per day and valet parking is $10 per day.

I look forward to greeting your delegates at the conference.
Fraternally,

John P. DeFazio, Director