USW Rapid Response & Legislative Conference
April 16-18, 2013 - Washington, D.C.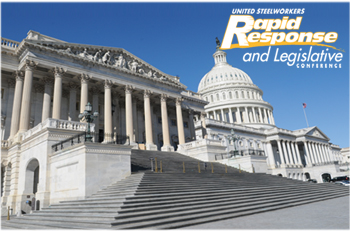 We are pleased to announce that the 2013 Rapid Response and Legislative Conference will be held during the third week of April in Washington, D.C., at the Hilton Washington. This conference comes at the start of a new Congress, presenting an opportunity for us to advance policies that matter for Steelworkers and our families at a critical time.

We urge all locals to make a strong effort to send representatives to this important conference, including as many members of your Rapid Response Team as possible.
Click Here for a copy of the call letter.
Schedule

As in years past, we will again run our conference simultaneously with the Good Jobs, Green Jobs Conference. This will begin on Tuesday morning, April 16. USW members are encouraged to join with our Steelworker leadership for a day of Good Jobs, Green Jobs general sessions and Steelworker-specific workshops. We have partnered many times in the past with labor advocates from around the globe, students and others to fight for common goals. This continues in that tradition. We will wrap up on Tuesday with USW District meetings and a Steelworker reception.

Wednesday, April 17, will feature Steelworker-only sessions focused on the key issues of our union: rebuilding the economy, securing the jobs we have now and into the future, and continuing to improve the quality of our working and retirement lives. We will hear from experts on key issues, legislators and our union's leadership. The conference will also feature key workshops that will help refine advocacy skills and build Rapid Response programs. On Wednesday evening, we'll join with Good Jobs, Green Jobs for a reception.

Thursday, April 18, will begin with a general session in preparation for a day of lobbying and action on Capitol Hill. The conference will conclude by 5:00 p.m.

Registration
Online registration is now available
Please pre-register online, by mail or by fax before April 1, 2013. There will be a registration fee of $125 per delegate to cover conference costs. Checks should be made payable to USW Secretary-Treasurer.

Online Registration – Go to our Rapid Response website at www.uswrr.org and follow the instructions, then mail your check to the address below; or

Mail Registration – Fill out and mail the registration form and your check to the address below; or

Fax Registration – Fill out and fax the enclosed registration form to the USW Rapid Response Department at 412-562-2266, then mail checks to the address below:
United Steelworkers
Rapid Response Department
5 Gateway Center, 7th Floor
Pittsburgh, PA 15222
Hotel Information
PLEASE NOTE: We are down to a handful of rooms at the Washington Hilton for Wednesday and Thursday nights. If you are having problems booking rooms, please use the Overflow Hotel (listed below) or call the Rapid Response Department at 412-562-2291.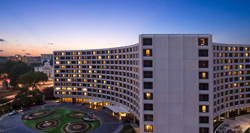 A block of rooms has been reserved at the Washington Hilton in Washington, DC, for all USW attendees. Attendees should make their own hotel reservation by calling the hotel number below and referring to the Group Code "GJRR." If you wish to book your hotel reservation online, click here and enter the Group Code "GJRR" as well. The hotel will accept reservations until April 1, 2013. Making reservations after this date will likely result in higher rates and possibly being sold out.
Washington Hilton Rates (per room, per night): Single/double occupancy rate is $249; triple rate is $269 and quad rate is $289. All rates are subject to 14.5% tax. A first night deposit by check or credit card is required. Credit cards will be charged immediately. If you need to cancel, do so three days prior to arrival to avoid cancellation penalties. There is a $50 early departure fee after check-in.

Washington Hilton
1919 Connecticut Avenue, NW
Washington, DC 20009
Tel: 202-483-3000 or 1-800-HILTONS (ask for code) Fax: 202-939-3271
Website for Conference Registrations at the Hilton: http://bit.ly/TnUfGC
Overflow Hotel
Marriott Courtyard DC/Dupont Circle
1900 Connecticut Avenue
Washington DC 20009
To book: Email Digna Olivarez, Director of Sales at Digna.Olivarez@crestlinehotels.com (reservations only being taken by email currently)
Hotel Code: USW
Rate: $229 Single/Double + 14.5% tax
The Churchill
1914 Connecticut Avenue
Washington, Dc 20009
CALL: 1.202.797-2000 and refer to Good Jobs Room Block
Room Type: King rooms with sofabeds only
Cutoff: March 29
Rate: $309

If you have any trouble securing a room, please contact Josh Keirsey at 412-562-2291.

Room Share Program – If your local would be interested in partnering with another local to split room costs, please contact Josh Keirsey with Rapid Response at 412-562-2291 or jkeirsey@usw.org for details.

If you have any questions regarding the registration process, please contact the Rapid Response Department at 412-562-2291. We look forward to your local's participation in what promises to be a very exciting conference.
In solidarity,

Leo W. Gerard
International President

Stan Johnson
International Secretary-Treasurer