Protecting Workers' Rights Tool Kit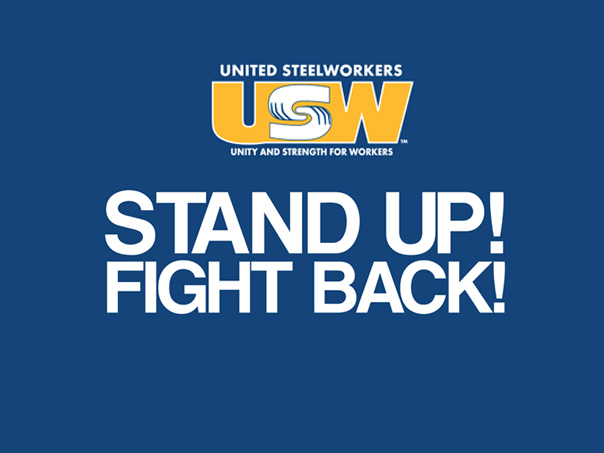 Instead of creating jobs and solving the problems of American working families, some state politicians are in a real state of denial. They're saying, "thank you" to the corporate CEOs who financed their 2010 election victories by pushing legislation to cut budgets and good jobs, lower wages, threaten job safety and weaken unions.

In state after state, newly elected, corporate-backed legislators and governors are playing politics as usual by launching a coordinated attack on working families designed to swell already-record-size corporate profits and keep those CEO bonuses coming. These politicians aren't offering up their own pay or pensions - they want working families to bear the burden.
It's time for us to stand and fight. Below are some resources to help you do just that. Check back often for updates.
Tax Day: Make Everybody Pay
The right wing is on the attack: slashing public services, eliminating workers' rights, and destroying jobs. Their excuse? "America is broke"-and yet big corporations and the wealthy are raking it in, and continue to get tax break after tax break. Something doesn't add up.

America is not broke. The right-wing wants to convince us we're broke so that they can push through their radical agenda. And well-connected corporations continue to use their political power to dodge their taxes. In 2009, after helping crash the American economy, Bank of America paid $0 in taxes. GE had a tax bill of $0 in 2010. Republicans want to give a $50 billion tax bailout to big oil companies-and at the same time take away food aid to hungry pregnant women and children. This is immoral and un-American.

Enough is enough! On Tax Day, April 18, as millions of Americans patriotically pay their taxes, we will call on corporations and millionaires to pay their fair share. At hundreds of events from coast to coast, we'll present tax bills to corporate tax dodgers for the billions of dollars their legions of lobbyists helped them avoid. We'll organize a peaceful, dignified, and powerful day of action to call on corporations to pay their fair share. And we'll demand that our elected leaders make them pay. Click here to find an event near you!

Stand and Fight
Across the nation, Steelworkers are leading the fight back against the corporate-led attack on working families. Check out this highlight video then pass it on. (After watching, scroll past the video for more tools and resources so you can join our fight!)
We Are One

On April 4, 1968, Dr. Martin Luther King, Jr. was assassinated in Memphis, where he had gone to stand with sanitation workers demanding their dream: The right to collectively bargain for a voice at work and a better life. (Click here to learn more about King's fight for workers.)

Across the country today, union members and our allies have joined in solidarity to confront a new series of state-level attacks against workers. On Monday, April 4, we joined unions, community groups, faith leaders and others in actions nationwide to show that we're standing together for rights for all workers to bargain for a middle class life, a voice in the legislative and electoral process and the respect that all people deserve. Click here to check out just a sample of photos from this amazing day.
Download our "I Support Workers' Rights" Sign
For more info on how you can stay informed and involved in this continued battle, contact your Rapid Response coordinator. One thing you can do right now is download and print our Info Alert and "I Support Workers' Rights" sign by clicking here. Get one to every member. Display in your car or house window. Ask local businesses to display. Pass on to you friends, neighbors and fellow churchgoers. Don't forget to take photos and send them to us here. You can aslo post reports and photos on our Facebook page, send pics to our Flickr stream and Tweet about your actions.
STATES OF DENIAL
Click here to visit the AFL-CIO's Web site that has the latest about state fights around the nation and info about what you can do about this attack.